How to Ship Motorcycles - Customer Guide
Prepare your motorcycle for a great adventure. Know the ins and outs of motorcycle shipping, and ensure your bike gets where it needs to go safely.
Before You Book
Check your motorcycle for any pre-existing damages. Document the condition within your listing. Note all mechanical issues. Remember to include chips, dings, scratches, and other cosmetic damages. If the bike is inoperable, you must note this in your listing.

Take pictures of your bike from several angles, and include detailed shots of any existing damages.
Decide which type of service you'd like to book - freight or owner/operator. Big national freight companies operating on uShip may cost less, but will likely require you to drain your gas tank, remove the battery, and crate the bike. Owner/operators may cost a bit more, but will save you the hassle of this intensive bike prep. Be sure to use the Q&A board on your listing to determine exactly which type of service you're agreeing to.
Check out service provider profiles for experience and equipment. Decide if you want to book open or enclosed transport. Determine whether or not bidding service providers specialize in motorcycles, and weigh out how much that means to you.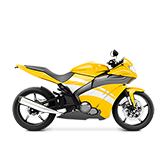 After You Book
Be sure to use a Bill of Lading. Sign and date at both pickup and delivery to document that you and your carrier agree to the condition of the motorcycle.
Remove all loose items. Your carrier is not responsible for loss or damages to accessories on your bike.
Thoroughly clean your motorcycle. Both you and your carrier will have a clear view of pre-existing damages. Plus, it's just nice to send and receive your shipment in shining condition. 
Prepare the bike for safe transport. Inflate tires, charge the battery, fill the tank to quarter full, and repair any fluid leaks.
Keep open communication with your service provider. In the world of motorcycle shipping, time frames are estimates only. Carriers can get held up for a variety of reasons, including weather, traffic, and availability of shipping customers on the route prior to you. If for any reason you have a situation that could hold up your carrier at pickup or delivery, please be sure to give your carrier ample heads up. Likewise, please communicate with your carrier throughout the process to make sure you have a clear understanding of their time frames and any setbacks that may have occurred.
If you have additional questions, please feel free to continue perusing our Help Center or contact our Member Support team by clicking here.