ePOD for Drivers
We're excited to bring you uShip's Electronic Proof of Delivery (ePOD) for your Exclusive, In-Home Deliveries. ePOD provides a digital Bill of Lading that is consistent, instantly uploaded and secure. Once a shipment has been booked, a carrier receives a shareable link that allows drivers to complete the documentation necessary for ePOD.
Drivers can then complete pickup and delivery documentation with the same link for a given shipment without needing a login or the uShip app.
Here's how it works for drivers:
Carrier shares a link to access and complete ePOD.

Open the link on your mobile device to view the

Pickup Details

screen.

Enter notes on the shipment, ensuring that any damage, issues, or relevant details is included.

After pickup, show the pickup contact the notes before asking them to enter their name and sign off. You will then enter your name and sign to confirm pickup. Once signatures have been added, the ePOD cannot be edited.
Note: You do not need to confirm or submit anything between pickup contact signature and your signature. Both are submitted at once when completed via the Submit Pickup Documentation button.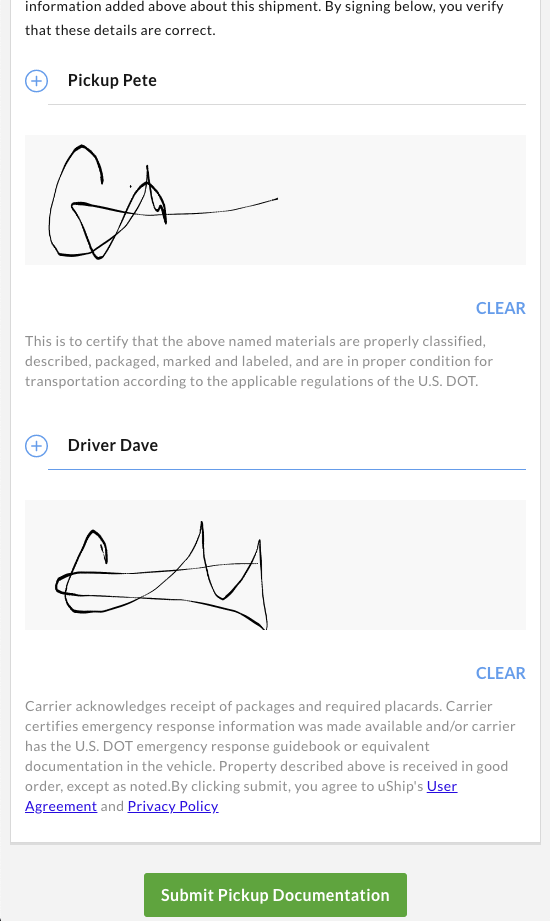 After completing signatures, you will receive a confirmation message. Click OK and repeat the same steps at delivery. Once you have finalized notes and delivery signatures you will see the Delivery Confirmation. The ePOD has now been successfully completed and will be digitally accessible for the uShip service provider account and the shipping customer via their shipment listing screen.