Reviewing Quotes and Transit Times
There are 30+ Carriers publishing rates on the uShip Marketplace. It is in your best interest to take the time to research the most appropriate carrier for your requirements.
Please read through the steps listed below to help ensure a successful shipment.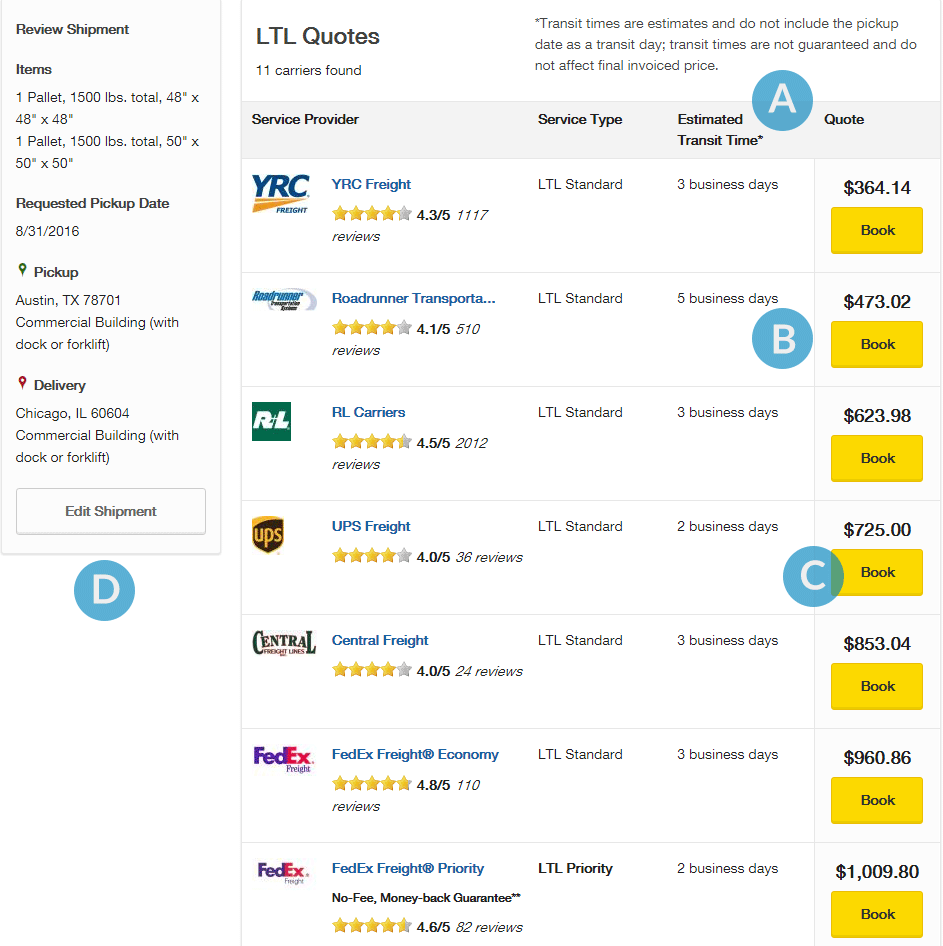 A) uShip receives the transit time directly from the LTL carriers. There are no guaranteed transit times on uShip. The service level is LTL Standard which means that, with the exception of FedEx Freight Priority, carriers are not liable in the event that transit time is longer than displayed. Transit times are generally reliable, but if you need guaranteed service then you will want to list your shipment in the uShip Marketplace. For more information about the reliability and performance of carriers, you can click on their profile to learn more.
B) The quoted amount displayed on Step 2 is based upon the unverified information provided on Step 1. If the shipment is invoiced by the carrier exactly as entered, then this is the amount that will be released to the carrier. If the information and services required to complete the shipment are greater than what is represented on Step 1, the carrier might charge additional amounts above this quote. This is why having proper information on the Step 1 form is of great importance. 
C)  If you are comfortable with the transit times and pricing, click on "Book" to understand more important details about the carrier.
D) Review the shipment information. If you discover that anything is incorrect, click "Edit Shipment" to update and receive new quotes. Pay close attention to make sure the shipment is listed correctly. The quoted amounts are directly related to the information listed.
If you have additional questions, please feel free to continue perusing our Help Center or contact our Commercial Support team by clicking here.