Reviewing Profiles & Feedback
All uShip reviews are real, honest, and provided by actual customers like you. It's absolutely imperative that you check out a service provider's profile and feedback prior to booking. Just click on any service provider's username to access this information.
At the top of each profile page, you'll see a company name and feedback score followed by a Company Snapshot. Here, you'll be able to see whether a service provider is a broker or a carrier, which type of services they provide, and where they operate. You'll also see important insurance and authority information. Click on these numbers, when available, to review documentation imported directly from the Federal Motor Carrier Safety Administration (FMCSA.)

Service providers may include Terms & Conditions in this section as well. Be sure to read through these, as you'll be agreeing to the contents upon booking. Also, check for icons or badges, which may recognize a service provider's status or qualifications.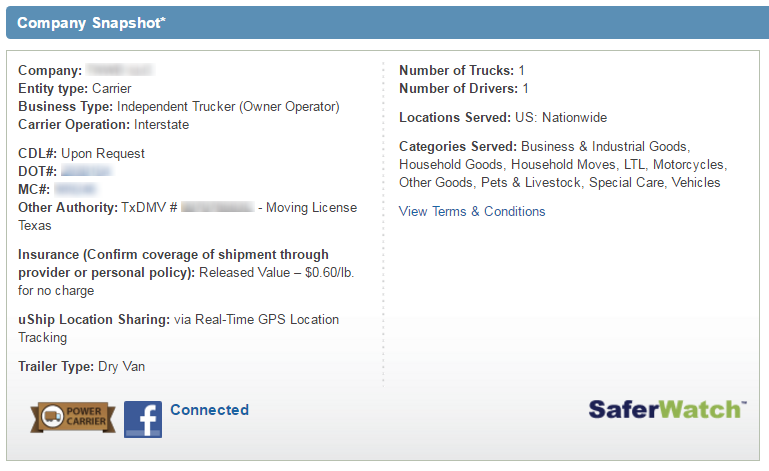 Beneath the Company Snapshot, you'll see the service provider's Member Information, Feedback History, and Detailed Feedback. This will tell you how long they've been on the site and how many shipments they've completed. You'll also find three tabs: Feedback Received, Feedback Left, and Cancellations. Be sure to click through and read the comments. This is your goldmine for information on a service provider's experiences with customers through our site.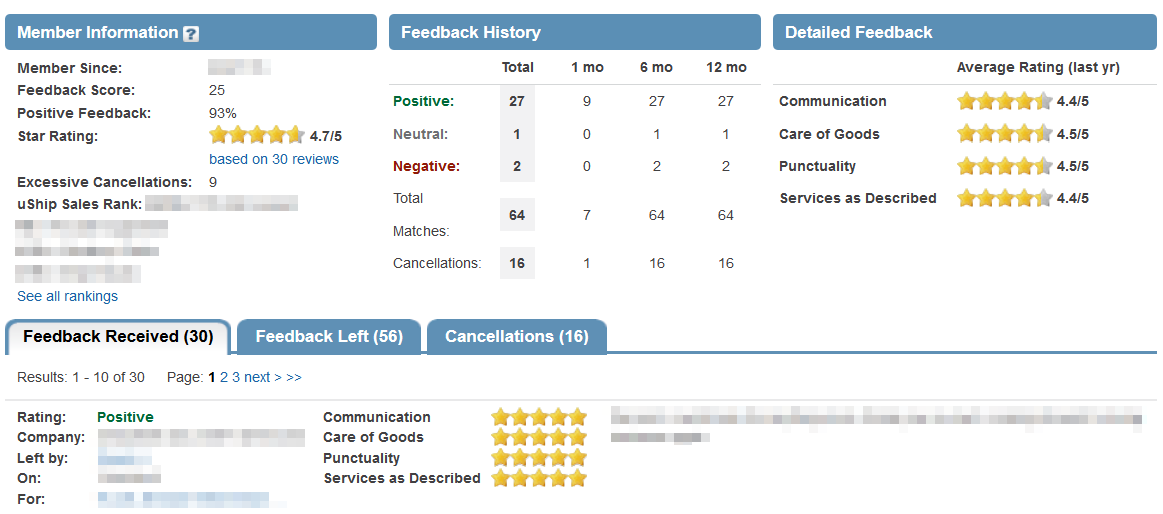 As you click through, ask yourself the following questions.

1. Do they have excessive cancellations?
2. Have they received a lot of negative feedback?
3. Does it seem like they have a lot of recent cancellations for the same reason?
4. Do they have adequate credentials?

Consider all of these details, as they're the best indicators of what you can expect when booking with a specific service provider through our site.
If you have additional questions, please feel free to continue perusing our Help Center or contact our Member Support team by clicking here.