How to Ship an RV - Customer Guide
RV shipping is relatively easy, as long as you give yourself a few weeks to choose an experienced provider and make arrangements ahead of this time. Follow this guide to get started.
Before You Book
Do your research. You may get a lot of bids on your RV listing. Choose a transporter who has a history of good reviews pertaining to this type of shipment. Decide whether you'd prefer your shipment to be towed or driven, depending on the condition and classification of the RV.
Make sure you're getting a fair price. Our Cost-to-Ship Guide will give you insight into what recent uShip customers have paid to get their RVs shipped.
Make sure you're covered. Chances are, you already have RV insurance. You'll also want to make sure the carrier you book with has cargo insurance. Take plenty of pictures of your RV prior to pickup. These will become useful in the unlikely event of a damages dispute.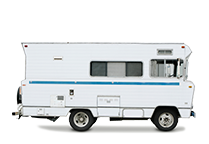 After You Book
Prepare the inside of your RV for transport. Secure all doors, windows, and cabinets. Take down any items hanging on the walls. Turn off all appliances and electronics, and disconnect the power supply and gas lines. Stow loose items in the appropriate compartments.
Prepare the outside of your RV for transport. Check all parking, brake, turn signal, and indicator lights. Secure all cargo doors, chains, and pop-ups. Lock any slide-outs. Check fluid levels, and repair any leaks. Secure the tow bar and hitch. Inspect your battery, and make sure the volt/amp gauge shows the correct range. Check the pressure and life of your tires. Verify that all brakes are functioning properly.
Communicate with your service provider. Make a plan for pickup and delivery. Provide a full set of keys, and any special operating instructions. Be prepared to release payment upon delivery of your RV.
If you have additional questions, please feel free to continue perusing our Help Center or contact our Member Support team by clicking here.