How to Move a Home or Office - Customer Guide
Moving is stressful. Listing your home or office move on uShip is the smart first step toward making the process easier. Follow these guidelines for a smooth move.
Before You Book
Know the difference between listing Household Items and Moves. If you need just one or two items shipped, create a Household Item listing. When you have an entire home or office relocation, categorize it as a Move. List your shipment correctly to ensure that the best quality carriers for your shipment are placing bids.
Prepare an accurate inventory. It's not easy summarizing everything you own into a listing. We totally get it. However, the truth is that your carrier needs to have a pretty solid understanding of the total weight and space your property will require on the truck. This is important for accurate pricing and equipment planning. Do your best to provide actual measurements, and if you're unsure of the total boxes you'll be packing, round up instead of down to avoid last minute complications.
Know the difference between service types. White glove service providers will package your belongings and even assemble your furniture. Blanket wrapped service doesn't include packing and assembly, but it helps ensure your property travels safely. Check out this article to familiarize yourself with the options available.
Choose the best moving company for your stuff. Our site is packed with quality carriers ready to bid on your move. To select the best company for the job, check out the feedback, reviews, and cancellation history of the carriers you're considering. You may want to also check out a company's operating authority - especially if your move crosses state lines. Look for the SaferWatch badge on a carrier's profile to tell if they've chosen to have their authority monitored. Also, you may want to book with a carrier who has cargo insurance - even if you plan on purchasing additional coverage through uShip at checkout.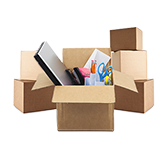 After You Book
Prepare your furniture for moving. Disassemble when possible, and keep screws and small parts in a plastic bag taped to the item. Remove drawers and secure contents. Remove furniture legs, wrap individually, and pack away together in a labeled bag. Protect all corners with bubble wrap, cardboard, and tape. Pack throw pillows and covers in trash bags to keep them clean and safe.
Secure all major appliances. You'll want to take proper steps to secure heavy appliances prior to your carrier's arrival. Empty, clean, and defrost your fridge at least 24 hours ahead of time. Take extra care when disconnecting gas stoves. Tape all appliance doors shut, and remove shelving or racks when applicable to avoid accidents.
Know how to deal with the unexpected. While damages are rare, and theft is even rarer, it's good to know you have recourse when these things happen. Take as many photos of your inventory as possible, including detailed photos of all large or valuable items. Sign off on a Bill of Lading. Get a copy of your service provider's cargo insurance certificate prior to pickup, if applicable, and keep it handy in case anything happens. Contact uShip Support if anything seems unusual about your shipment, or if items go missing.
If you have additional questions, please feel free to continue perusing our Help Center or contact our Member Support team by clicking here.