uShip + 1 Click Auto Auction Frequently Asked Questions
Congratulations on your auto purchase through 1 CLICK AUTO AUCTION! After your purchase is closed, you will receive a link to checkout on your Seller Bill Of Sale. The checkout link will bring you to the uShip site where you can either sign-in or register your account. Once logged in, you'll automatically be brought to our Booking Request page where you can checkout via credit card or pay-on-terms. For any additional questions, please see the FAQ below.
Step 1
Once you have completed your transaction you will receive an email from 1 Click Auto Auction with your Bill of Sale.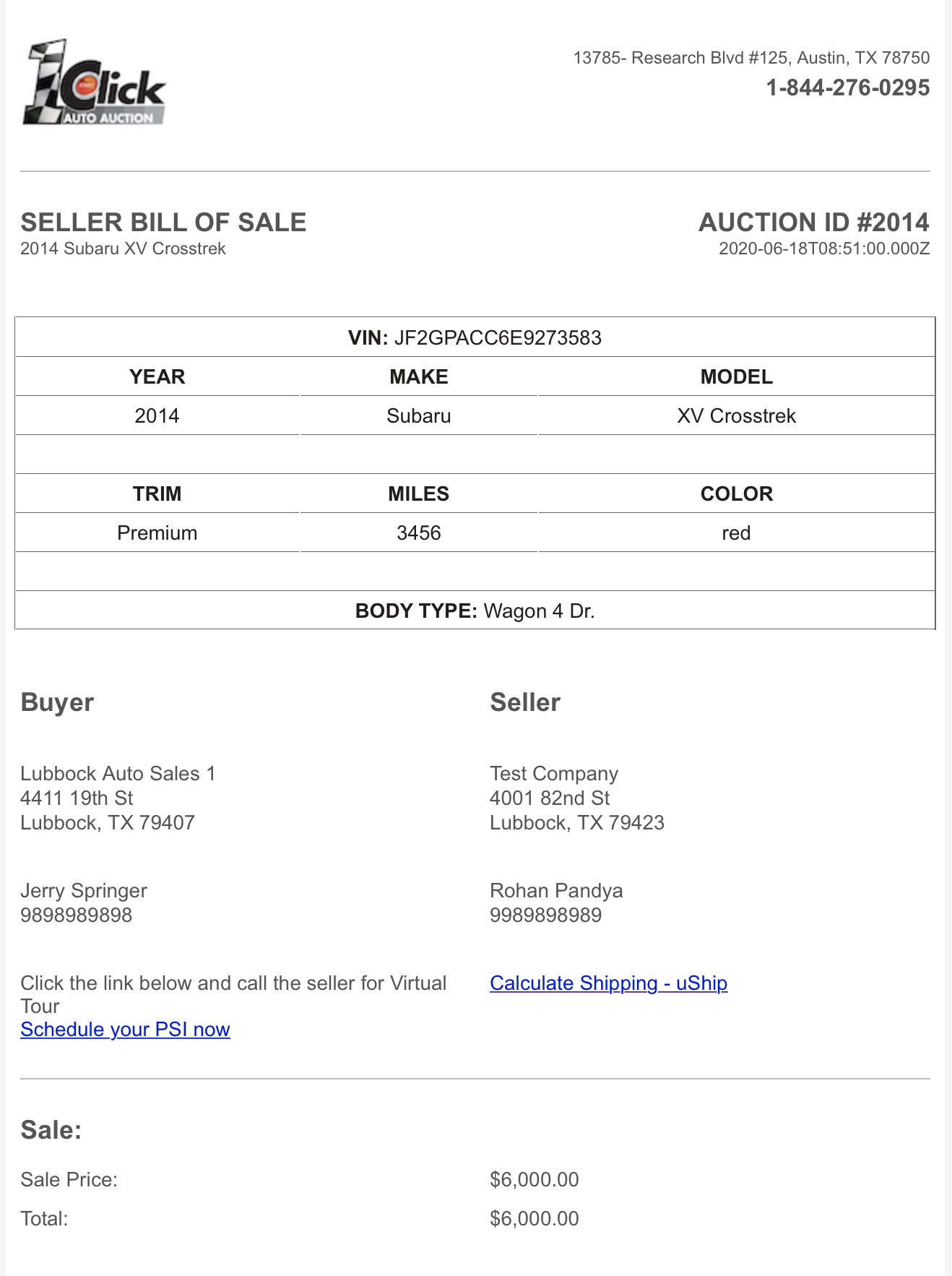 Step 2
Notice the Calculate Shipping - uShip link on your Bill of Sale. Clicking on this link provides you the vehicle shipping cost and shows your order details. If you are ready to book your vehicle for transport, click on the Click Here to Book button.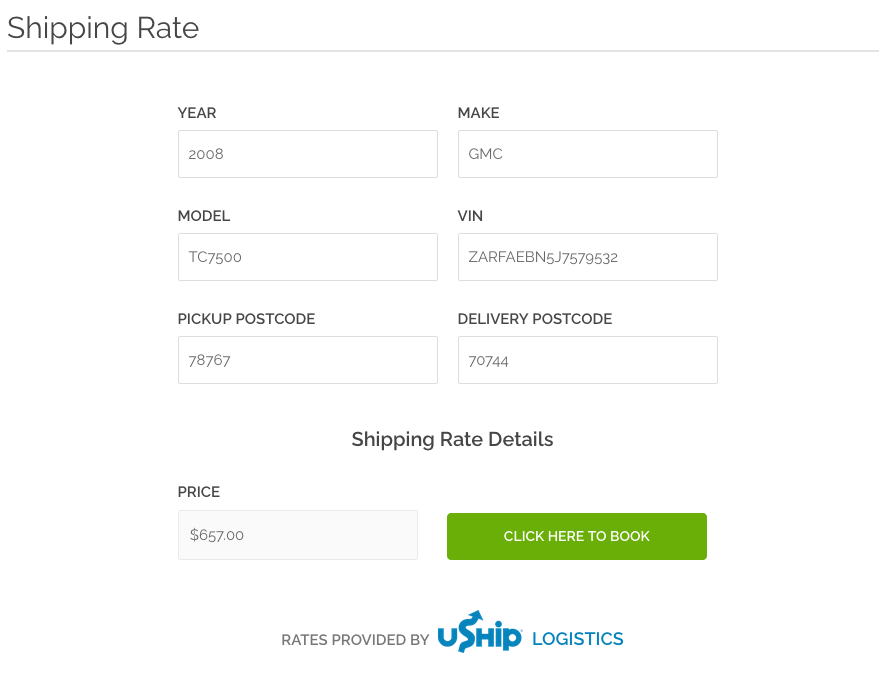 Step 3
The Click Here to Book button will take you to the Sending Booking Request Page where you will finalize your booking.
FAQ
How fast is the shipping process?

Most shipments get picked up within 3 days and are delivered directly. Some shipments or lanes may take longer depending on location or distance shipped. If you're curious about the status of your order please contact:

dispatch@ushiplogistics.com.
How do I pay for transport?

After you register a uShip account, you'll have the option to pay via credit card. A refundable deposit is charged at booking and the balance at delivery.
Does uShip offer payment terms?

Yes. There are other ways to pay than credit cards. Call or email uShip Logistics to apply. The process is quick and once approved, services can be ordered on credit and billed on 30 day terms.
What insurance is included in the rate?

All assigned drivers are required to maintain a minimum of $100,000 in cargo insurance. If preferred, you may also purchase the uShip Protection Program at checkout.
How does uShip Logistics calculate rates? Are they guaranteed?

Rates are anchored to the market and change daily based on an algorithm's nightly analysis of 1400 national lanes. All quotes are good for 30 days and guaranteed.
Multiple vehicles, inoperable, or expedited?

Give us a call! We're here to help. 1-877-795-8486
I booked a car to ship, where do I go from here?

Bookings are confirmed ASAP, and nearly all within one business hour between 7 AM - 6 PM CST. If you do not receive a confirmation by email, feel free to give uShip Logistics a call at: 1-877-795-8486 or email:

carquotes@ushiplogistics.com
What happens if I identify scratches or damage at the point of delivery? In the unlikely event of damage, make sure the condition of the vehicle is well documented at delivery. The carrier's insurance company will compare the delivery condition against the report completed at pickup. Do not sign any delivery paperwork until the vehicle has been inspected by your team and conditions noted. Your assigned driver should provide you a Bill of Lading (BOL) for this process that includes a wireframe of the vehicle and places to note vehicle condition.
Whom do I contact if I believe there has been damage during transport?

Contact uShip Logistics ASAP. We'll note the claim on the transaction's case file and facilitate resolution with the driver's insurance company.
I would prefer to use the auction platform on uShip Marketplace to get various quotes directly from transporters. What is the process to get a car listed and up for bids?

To list on uShip Marketplace, navigate to

uShip.com

and login using your uShip credentials. Your account settings and payment terms will work the same, however uShip Logistics will not manage your transaction.
How many photos and what shots should I include in the listing?

Up to 10 photos can be uploaded. Shots should be taken of the front, back, driver and passenger sides of the vehicle and include any existing damages to the paint and body of the vehicle.