Filling Out the LTL Bill of Lading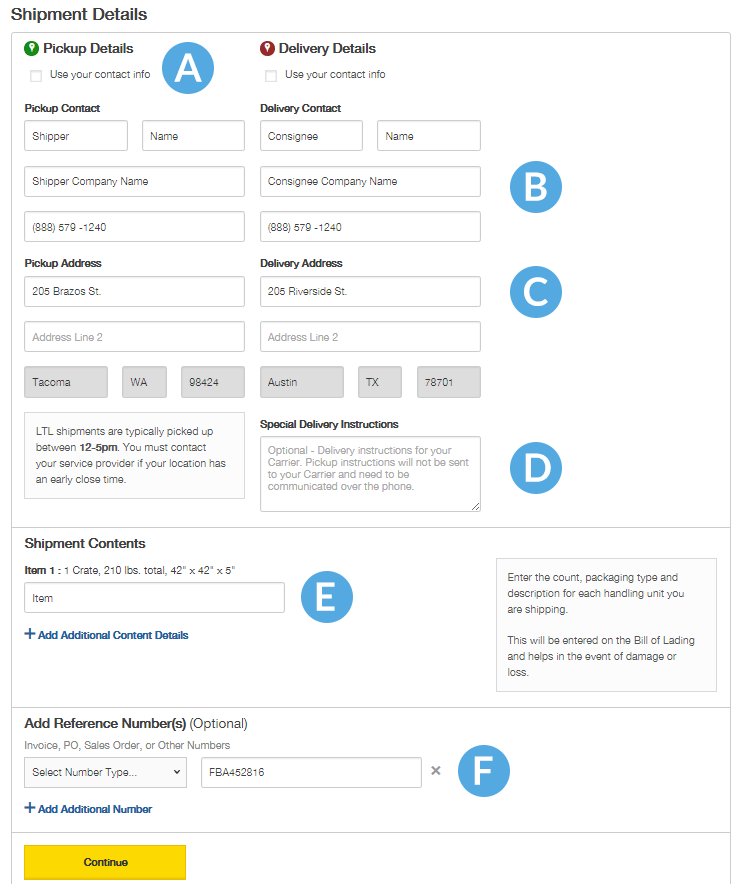 A Bill of Lading serves as your invoice and a place to note any damages that might have occurred during transport. Below, we'll walk you through the document itself.
A) If you'll be sending or receiving the shipment, you can quickly add your own contact information rather than filling it out manually.
B) It is required to add a company name if you are shipping to or from a business. If you type an individual's name in this field, the carrier's billing clerks will assume it is a residence and bill accordingly.
C) Enter the addresses of the origin and destination locations. Be sure to double-check on Google Maps that your address was quoted correctly on Step 1. For example, if you quoted it as a business, make sure it's not a farm or a limited access location.
D) If there are any special delivery instructions, be sure to put them here. Do not write "call before delivery" or "liftgate required" in this section. Any additional service that should have been quoted on Step 1 that is requested here will be billed after delivery.
E) An accurate description (and piece count) of your items is important. Please be as specific as possible with the space provided. Detail in this section will help in the event of a damage claim.
F) Reference numbers are often needed at distribution centers or auction houses. If one is necessary, please type it here.
If you have additional questions, please feel free to continue perusing our Help Center or contact our Commercial Support team by clicking here.