Rescheduling Pickup Date / Pickup Time Window Request
If you need to reschedule your pickup date or change the pickup time frame, the easiest and fastest way to do it is to call your carrier's local terminal. You can find this contact number on the uShip Bill of Lading. The best way for your carrier to look up your shipment is by using the pickup number, which usually is in the Booking Confirmation email that gets sent to your uShip Inbox and the email address on file in your account. An example of this email is pictured below.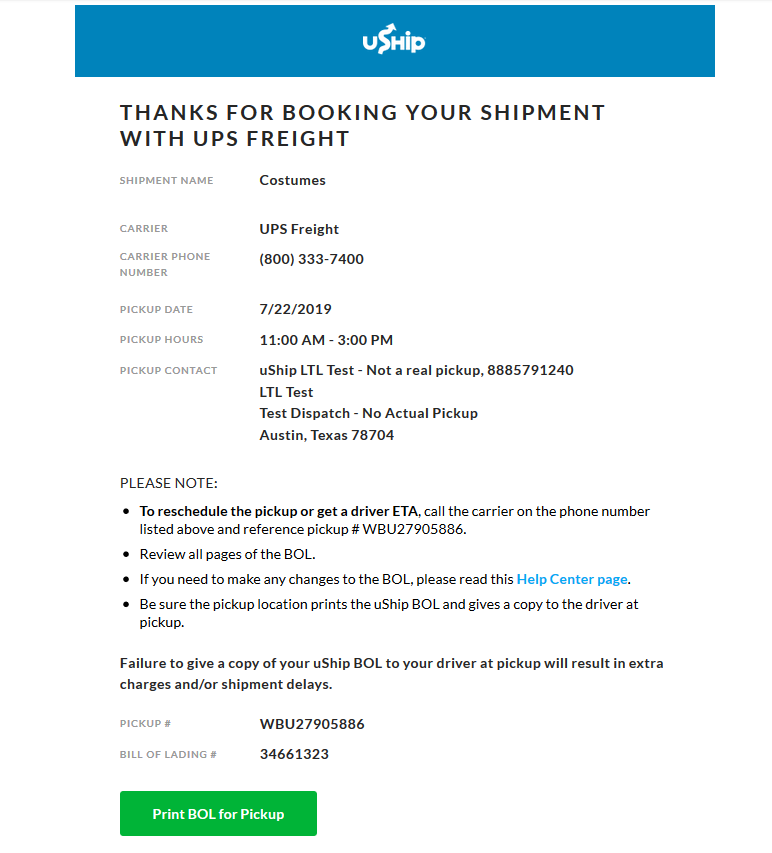 If the pickup number isn't in your Booking Confirmation email, the carrier should be able to look up your shipment using your company name, phone number, address and zip code.
If, for whatever reason, they can't locate your shipment, give uShip a call at 1-888-579-1240 and we will assist.
Please Note: Pickup time windows are never guaranteed and they're not always possible. The industry standard is 12 PM- 5 PM, but you can always request a different time frame from the carrier and they will let you know if it's possible or not.
uShip does not need to be notified if you need to change your pickup date. The price will remain the same if the date is within 5 days of the original booked date.