Getting Paid
For uShip Payment shipments, your shipping customer can release payment to you either by giving you the Payment Code or releasing the funds online from their account. If payment has been released online, you'll receive an email letting you know: Payment Received for [shipment title].
Once payment has been released to you, you will need to transfer the money from your uShip account to whichever withdrawal method you've linked to your account.
For detailed, step-by-step instructions, please see below: 
1. From the top menu, hover over name & select Payments.
If the shipping customer has already released payment to you from their account, skip to Step 4. 
2. Enter the Payment Code given to you
3. Select Submit Code - After the code is activated, the amount of the code will be added to your account balance.
4. Enter the amount you would like to withdraw.
5. Select your withdrawal method from the drop down menu.
6. Click Withdraw Funds.
7. Select submit on the Withdrawal Details page. Here, you can confirm the withdrawal method you've chosen, the amount being withdrawn and the estimated processing time for it to reach your withdrawal method.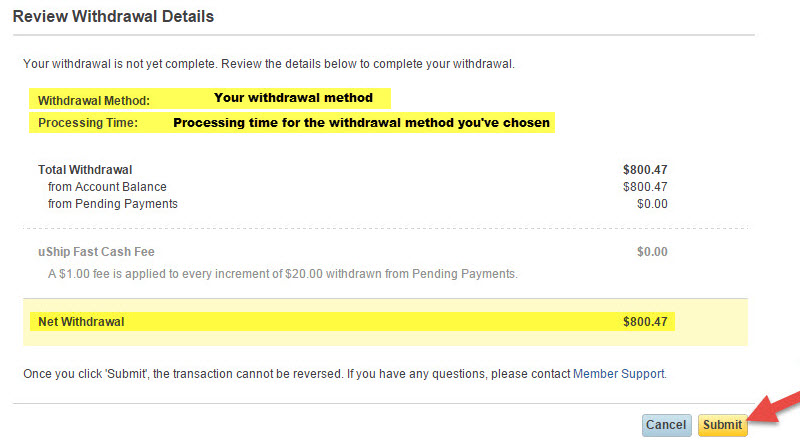 If you have additional questions, please feel free to continue perusing our Help Center or contact our Member Support team by clicking here.
Watch Our Payment Codes Overview: