LTL Cargo Protection & Checkout
Shipments booked with any of the LTL Instant Rate Carriers will be subject to the carrier's Limitation of Liability in the case of damage or loss. If you determine that your shipment requires additional protection, we offer the uShip Protection Plan for purchase during checkout at an affordable rate.
Low Protection Fee
uShip offers competitive protection fees as low as $50 to protect your LTL freight.
Processing Fee
Enjoy $100 processing fees on most goods valued up to $1,000. Note, there are minimum fees of $100, $250, $500, or $750 dependent upon the type and value of good(s) being shipped. Please refer to the Terms of Service to learn more.
Determining Freight Value
Should a case be opened, the final valuation of the freight is determined by the case specialist. uShip strongly recommends you have ample documentation (appraisals, photos, receipts, bills of lading, etc.) to provide during the valuation process.

Incident Restrictions
Location Restrictions - This plan only applies to LTL shipments within the United States
Category Restrictions - Most LTL freight will be covered, with the exception of a few restrictions. Used engines/motors (defined as any machinery which is used to propel a vehicle, boat or personal craft) and used vehicle transmissions are excluded from coverage. Please review the Terms of Service for full detail on restrictions.
Valuation Restrictions - This plan does not apply to any one shipment in excess

of $200,000 in value.
Feel free to review Terms of Service in their entirety if you have questions whether or not your freight is eligible for protection.
Submitting a Case
All cases must be submitted by the uShip account holder within seven days of delivery to the final destination. In order to be able to submit a case, you must do the following:

Properly package your freight

Be sure the BOL properly notates what is being shipped

Take photos of the item(s) before the shipment is picked up, as well as photos of any damage at time of delivery

Retain a copy of the carrier's signed delivery receipt noting all damages / shortages.

Get a repair estimate (if available)

Retain proof of freight's value or get appraisal of the freight prior to it being shipped (if available)
To start a case, navigate to the corresponding shipment details and click on the Submit a Case link.
Please note: failure to follow the instructions listed above may lead to a delay in the process or denial of your case.
uShip will not file cases on behalf of our account holders. We will assist in gathering documentation necessary, such as the Bill of Lading and the Delivery Receipt for the shipment, but we will not file cases on behalf of account holders.
CHECKOUT
Payment
All payments must be made using credit or debit card.
Additional Fees
Please note before checkout that the rate you're booking is based on the information you provided. If the carrier finds that your shipment is different than described or additional services are required, you are subject to additional fees.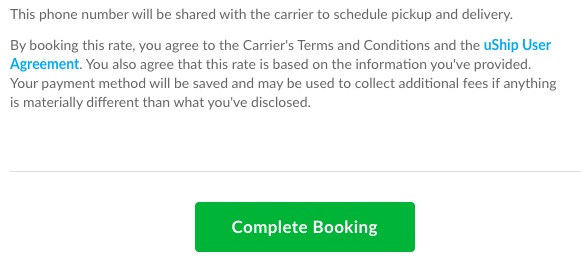 For our non-LTL customers, click here to learn more about the uShip Protection Plan.
If you have additional questions, please feel free to continue perusing our Help Center or contact our Commercial Support team by clicking here.