Bill Of Lading (BOL) - uShip LTL Published Rates
If you've never shipped LTL before, you might be wondering what a bill of lading is. Officially, it's a title to the goods you're shipping, but it has many other functions. The Bill of Lading is a legally binding document that lists the details of the shipment booked on uShip.
It not only lets your carrier know any pertinent delivery details (address, contact information, services required), it also determines who the carrier will invoice and at what weight, class, and dimensions.
One of the easiest ways to avoid a potential headache down the road is to make sure that the pickup location has a copy of the bill of lading. If you're at the pickup location, you'll want to print out two copies- one to attach to the freight and one to hand to the driver. If you're at the delivering location, please be sure to email or fax a copy of the bill of lading to your shipper.
If the bill of lading isn't available at pickup, it's likely that the driver will either refuse to pick it up or they'll present their own bill of lading that does not have uShip as the bill-to party. That can lead to a messy billing situation which ends with someone being asked for money at delivery when uShip was previously paid up front.
If you do not use the uShip BOL it is very likely that you or the person on the other end of the shipment will be billed directly by the carrier. uShip is not obligated to change the bill to party on a shipment if the uShip bill of lading is not used.
Everything that is selected and entered on the uShip Step 1 quote form is printed on the Bill of Lading. This is the information that the carrier will verify when they pick up and move a shipment.
In short, the bill of lading is important to a successful shipment. Make sure the origin location has it.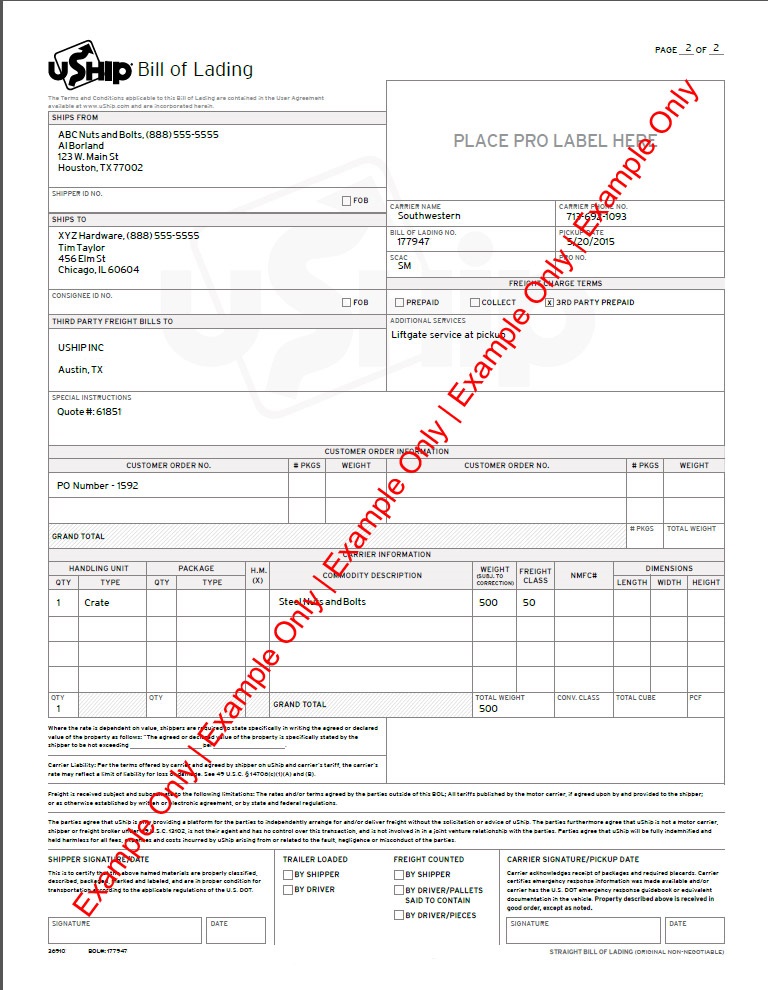 If you have additional questions, please feel free to continue perusing our Help Center or contact our Commercial Support team by clicking here.