Broker Basics
As a broker, you play a unique role in our marketplace. Not only can you find shipments - you can find carriers as well! In that sense, you act as both a service provider and a shipping customer on our site.
In order to create a broker account, you must first have active broker authority through the FMCSA. Once you're a registered broker on uShip, there are several ways for you to get started.
Find Shipments
Brokers can source new shipments through our marketplace, and through Published Rates.
Marketplace
Any user with a qualified broker account can search our marketplace to find and book shipments. To begin, hover your mouse over your name in the heading and toggle to provider mode from the drop-down menu.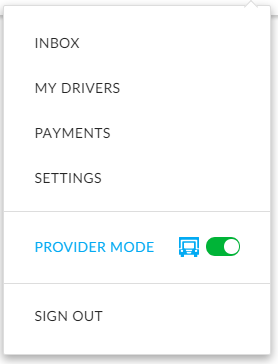 Click on Find Shipments from the heading to narrow down your search and browse listings currently available that fit your needs. To learn more about finding shipments on uShip, click here!
It's important to note that all new shipments booked through our marketplace must be booked by carriers through uShip. This way, we're able to take the full payment the shipping customer made through our site, and seamlessly pay out both you and your carrier according to the broker margins you set.
Do you have a carrier in mind who's not on uShip? No worries! Send booking invitations with just a click of your mouse, prompting carriers to set up their free uShip accounts and accept your assignments.

Published Rates
If you work with vehicle, motorcycle, or LTL shipments - Published Rated might be for you. This exclusive platform allows top performing brokers to automatically quote on uShip shipments by connecting their TMS through our API. Contact us to learn more about the Published Rates opportunity.

Find Carriers
Brokers can use our marketplace to find carriers for uShip shipments, as well as for off-site shipments.
Book uShip Shipments with uShip Carriers
When you book a shipment on uShip, you must either Direct Assign the shipment to a carrier, or Post It for a carrier to book through uShip, in order to release payment. You can take either of these actions directly from My Shipments when you're toggled onto provider mode.


Once a shipment has been posted or direct assigned, you'll be able to toggle off of provider mode to manage it in your My Shipments view.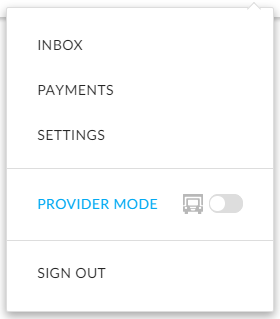 Posted shipments will appear under Listings, while Direct Assigned shipments will appear under Assigned.

Book off-Site Shipments with uShip Carriers
If you have a shipment you'd like to list in our marketplace for carriers to bid on, go ahead and make sure you're toggled off of provider mode. Then, click Ship from your heading.

You'll have the opportunity to list your shipment at a set price, so there's no haggling or back and forth between carriers. Once a carrier accepts, and you approve, the carrier will book the shipment through uShip.
If you have any questions about working on uShip as a broker, please feel free to continue perusing our Help Center or contact our Member Support team directly by clicking here.