Withdrawal Methods
If you're a Broker or Transporter who is opted into uShip Payments, you have options! You have four methods available to withdraw funds from your uShip account. 
To edit or link a withdrawal method:
1. Select Payments.
2. Click Withdrawal Methods.
3. Select action on the right side of the screen for your preferred withdrawal method.
You can choose from:
ACH/Direct Deposit to bank account: The primary electronic network for bank-to-bank financial transactions.
PayPal: A quick and popular system for transferring money online, requires an account with PayPal.
Payoneer: A prepaid MasterCard debit card that can be used at ATMs and anywhere MasterCard is accepted.

Paper Check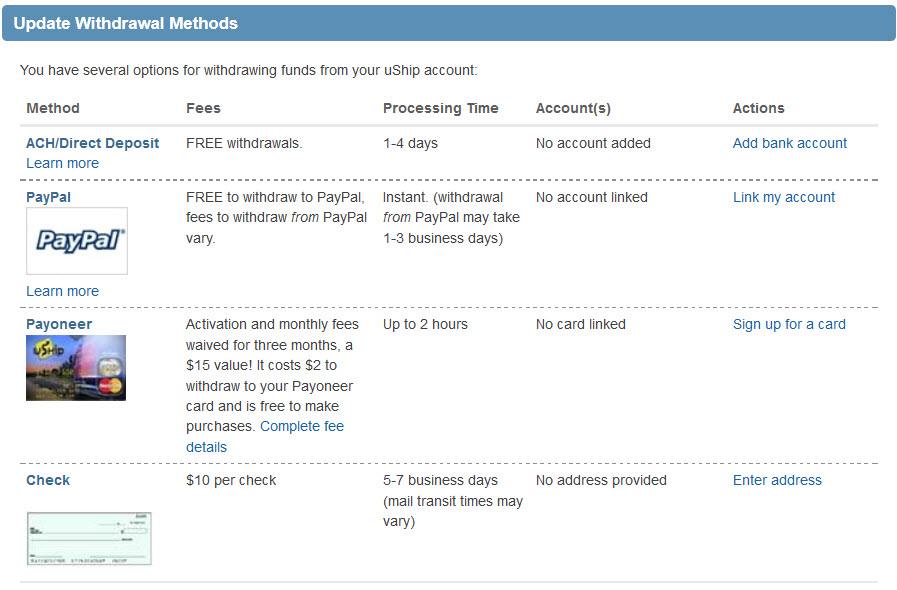 Read through the descriptions for each method and choose which will be best for your business. You can link one or more methods that work for you! 
If you have additional questions, please feel free to continue perusing our Help Center or contact our Member Support team by clicking here.