Booking Confirmation
Once you've successfully booked a delivery, all of the details you'll need to get started will be located within your Booking Confirmation page. To get here, click on the listing from your Booking Confirmation email, or log in and select the delivery from your My Deliveries page.
Our layout is designed to make it easier to find the information you need at a glance.
LOCATION
Starting and ending points are clearly marked on a map at the top of the page. Just below the map, you'll find the total distance of the trip, as well as important details pertinent to the pickup and delivery locations.

Full address (if provided)


Location type

Contact name

Contact phone number

Expected time frame
CUSTOMER
You'll want to contact your customer as soon as the delivery is booked. Find the customer's name, phone number, and email address in the top right corner of the page. Reach out and ask for any additional details not mentioned on the Booking Confirmation page. Determine a plan for staying in touch throughout the course of the delivery.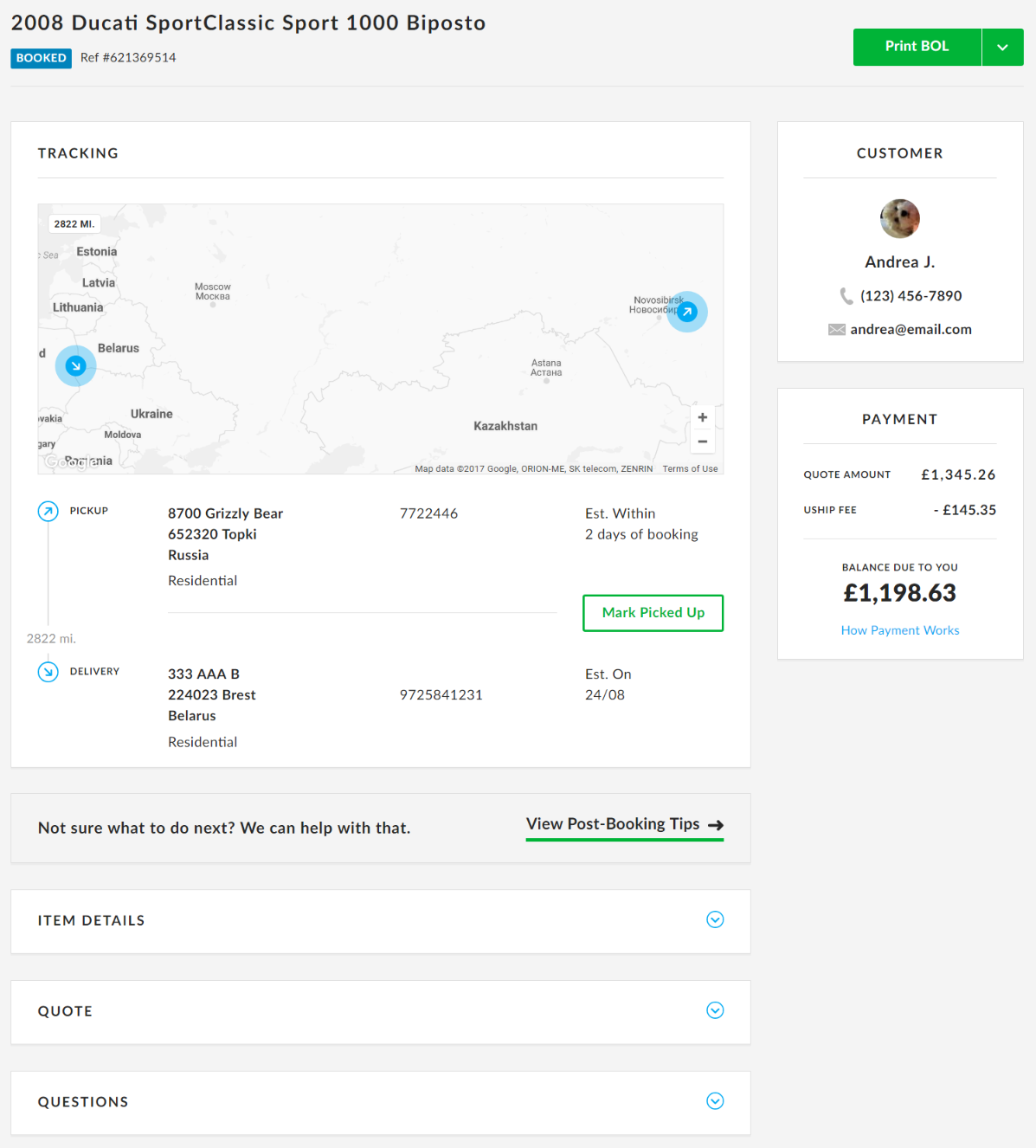 PAYMENT DETAILS
See exactly how much you'll be making on your delivery at-a-glance, just below your customer's contact information. You can scroll down to the Quote section of the page to review your payment method.

STATUS UPDATE
While it's always best to enable location sharing on your device to allow for city-level tracking, and mobile status update prompts; you can also update your status directly from your Booking Confirmation. When you're ready, click Mark Picked Up or Mark Delivered. We'll update your listing's status in your My Deliveries view, and notify your customer of the change.
DELIVERY DETAILS
Click to review all delivery information, exactly as it was available within the original listing.

Photos

Descriptions

Weights

Dimensions

Requested service types

Special instructions
In short, this section describes the customer's side of the deal, which you've agreed to.
QUOTE
Expand your quote details to review the terms within your quote, which you placed and the customer has accepted. This is where you'll be able to view your payment method for the delivery - whether it's a uShip Payment Code or your COD method of choice.

QUESTIONS
Chances are, some of the details of your delivery were hashed out within the Q/A section of the listing. You can go back and review these conversations by expanding the Questions tab at the bottom of the page.
If you have additional questions, please feel free to continue perusing our Help Centre or contact our Member Support team by clicking here.