Updating Pickup and Delivery Schedules
We know anything can happen on the road, and communicating any schedule changes with all parties can be difficult or may take up too much time. We've made it easy to update your schedule through the Listing Details page on our website or mobile app.
Simply click on 'Update Dates' and add your new confirmed dates. If the dates are past the original booked timeframe, you'll be asked to pick a delay reason. As always if you'd like to add any more detail, please do so in the 'Notes' section.
If your delay is due to an unreachable pickup or delivery contact, uShip will reach out to the shipper to get updated contact information.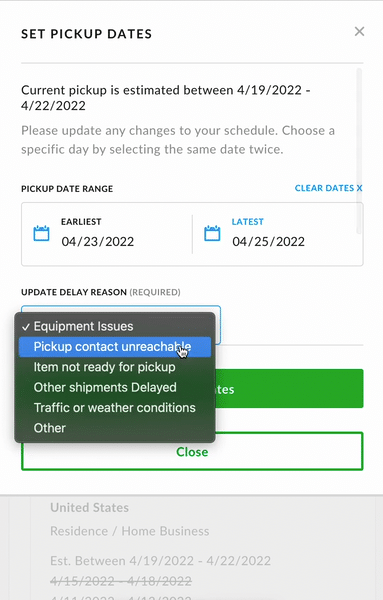 Overdue Status
Seeing an 'Overdue' status on a shipment? To help save you some time, a shipment will show an 'Overdue' status as a reminder when updates to pickup or delivery schedules are needed. Once pickup and/or delivery dates are updated the 'Overdue' status will disappear.
Overdue status details:
Overdue Pickup: Pickup dates have passed, and we need updated dates

Overdue Delivery: Delivery dates have passed, and we need updated dates

Overdue: Both pickup and delivery dates have passed, and we need updated dates

As always, if you have any questions, please contact support