International Shipping for Customers (outside of the EU)
We know that international shipping can seem like a complicated beast, but uShip is here to make it easier. Please see below some basics about the process.
When you book your international shipment on uShip, you'll likely be booking with an international service provider. This type of service provider is able to handle specific aspects of international shipping that others can't such as:
Organization of multiple carriers working together to complete your shipment over land, air, and sea

Assistance with customs brokerage - the processing of paperwork required for customs checks
Most international shipment delays are caused by missing or incorrect documentation, so make sure your service provider tells you exactly what you need to have prepared when you book your shipment. While required documentation will vary on a case-by-case basis, you'll likely need to produce the following:
Make sure your service provider gives you the route and transfer information, as well as a breakdown of the modes of transportation your shipment will take. Provide this information to personnel responsible for both the shipping and receiving ends of your shipment.
Your service provider will be your main point of contact throughout the process, facilitating communication between yourself, your carriers, and custom agents.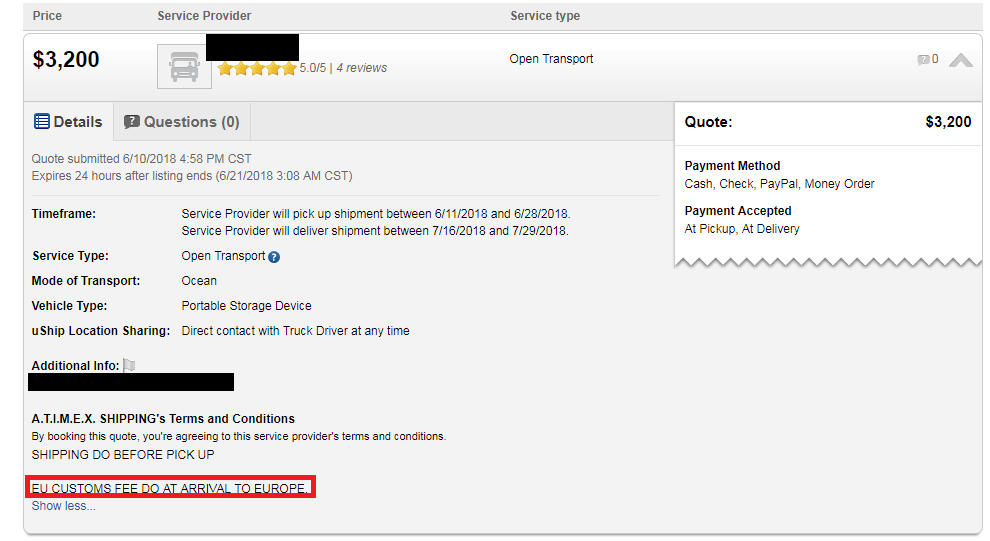 Please keep in mind that import fees (for ports, airports, etc.) and taxes are usually not included in the initial quote. These charges need to be rendered separately once your shipment arrives, because they vary by shipment, port, time of arrival and other factors, making them difficult to predict. Most service providers also specify a door-to-port (not door-to-door) delivery – pay attention to this detail to avoid extra costs and confusion.
If you have questions regarding these charges, please make sure to communicate thoroughly with your service provider before booking, and always set up a written contract outside of uShip after booking.
We hope this information helps to ease your mind and point you in the right direction. If you have any additional questions or concerns about international shipping, please contact support! We're here to help.