Reviewing Profiles & Feedback
uShip is a feedback-driven marketplace, so it's absolutely imperative that you review any service provider's profile and feedback before booking. To view a user's profile, click on their username or on the View Profile button. Once there, you'll be provided with their uShip history.
At the very top of any provider's profile, you'll see their display/company name, their site username, and overall feedback score. Below will be their Company Snapshot.
Within the Company Snapshot, you'll see information they've provided about themselves or their company. This includes whether they are a broker or a courier, what kind of company they are, and where they operate. You'll also see important information like licences, registration, and insurance offered. You can also view any specific Terms & Conditions. Keep in mind that this is all self-reported, and in many case, unverified information. So be sure to verify everything you read!
Certain profiles may also have icons or badges at the bottom designating special qualifications; mouse over these icons to see what they mean.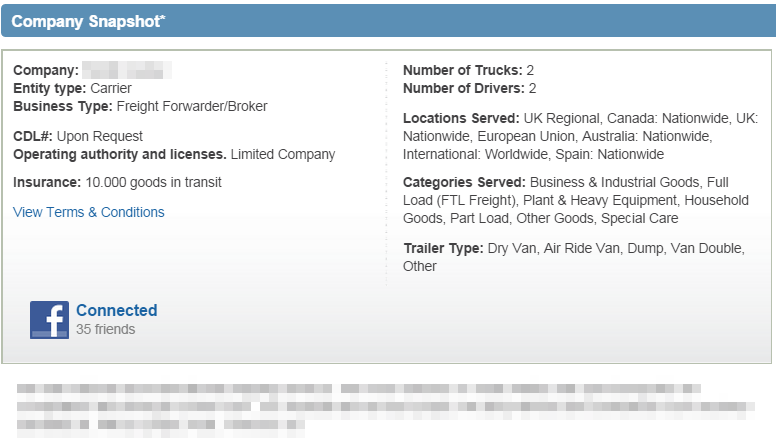 Beneath the Company Snapshot, you'll see their Member Information, Feedback History, and Detailed Feedback. This will tell you how long they've been on the site and how many shipments they have completed.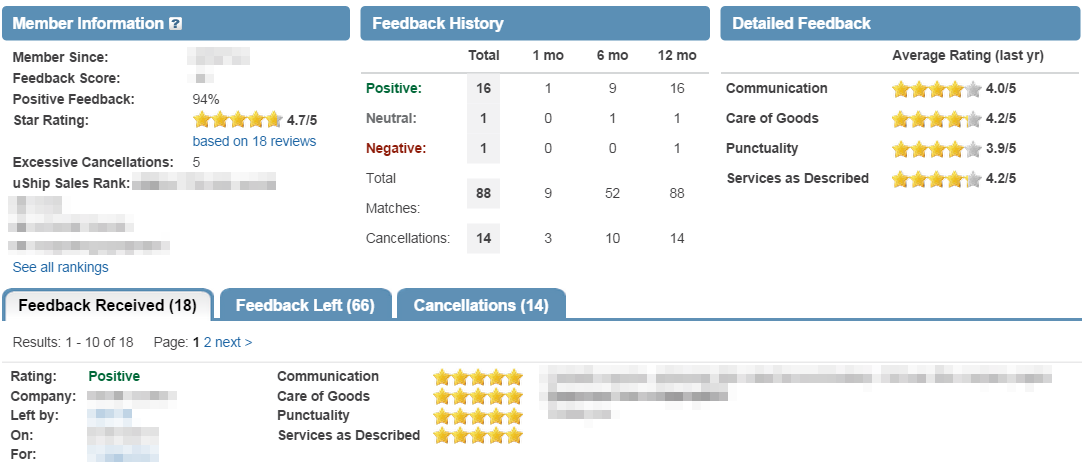 Most importantly, click and read through the three tabs at the bottom of the profile page: Feedback Received, Feedback Left, and Cancellations. These will show you what feedback the provider has received for completed shipments, what feedback they've left for customers they've worked with, and how many shipments have been cancelled for the reason selected. Reviewing feedback and the profile of a service provider is the best way to see how they've performed in the past and can be a great indicator of how they will perform in the future.
1. Do they have excessive cancellations?
2. Are there a lot of negative feedback ratings?
3. Have they incurred recent cancellations that seem to be attributed to the same reason (no show, late, no communication, raising the price)
4. Is their profile filled out and do you feel confident in their credentials?
If you have additional questions, please feel free to continue perusing our Help Center or contact our Member Support team by clicking here.