How to Deliver an RV - Transporter Guide
Our site is typically bursting with RV listings. Get in the game, and follow these steps to become a successful RV transporter on uShip.
Before You Book
Ask the right questions. Make sure the RV is ready for transport. Get information on the condition, size, and dimensions, so you know exactly what to expect. Agree to pickup and delivery dates. Discuss whether the RV will be towed or driven. Make sure you're permitted and insured to carry the type of RV you're quoting on.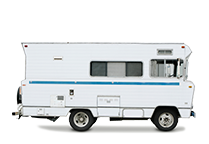 After You Book
Use a Bill of Lading. Make sure to get your customer to sign off at both pickup and delivery. Make note of all preexisting damage, and take pictures as much as possible.
Provide your cargo insurance certificate. Your customer will want this information in hand, for an easy claims process, in the event that damages occur to the valuable equipment you're transporting.
Make sure the RV is prepared for delivery. This is generally the customer's responsibility, but it's your job to double check everything. Secure all doors, windows, and cabinets. Turn off all appliances and electronics, and disconnect the power supply and gas lines. Stow away loose items. Check all indicator lights. Secure all cargo doors, chains, and pop-ups. Lock any slide-outs. Check fluid levels, and repair any leaks. Secure the tow bar and hitch. Inspect the battery, and make sure the volt/amp gauge shows the correct range. Check the pressure and life of the tires. Verify that all breaks are functioning properly.
Communicate with your customer. Make a plan for pickup and delivery. Get a full set of keys, and any special operating instructions you'll need. Call an hour or two before delivery to make sure someone is available to receive the RV and release payment.
If you have additional questions, please feel free to continue perusing our Help Centre or contact our Member Support team by clicking here.