How to Move a Home or Office - Transporter Guide
Moving an entire business or home is a huge responsibility. It's also a rewarding opportunity, and a great source of income if done right. Follow these tips to find success in this high-touch category of moving.
Before You Book
Ask the right questions. Every once in a while, you'll come across a listing with a perfectly detailed inventory. Usually, that is not the case. Use the Q&A to find out dimensions of those larger items, or confirm pickup and delivery details.
Agree to the dates before you book. When it comes to moves, customers are typically a little more specific with their dates. If you can do a date different than the one in the listing, make sure that date works for your customer prior to bidding. Otherwise, be sure to honor your customer's date.
Make sure you have the equipment and personnel for the job. Bigger items and larger listing require more hands to move. Most moving customers demand enclosed transportation for their items. Calculate the cost of the extra help and any extra equipment you'll need into the bid.
Know the difference between service types. White glove service includes packaging items and assembling furniture. Blanket wrapped service doesn't include packing and assembly, but it requires upmost care and safety of items moved. Check out this article to familiarize yourself with the options, and be sure to deliver the type of services you book.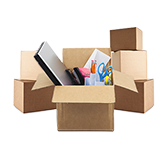 After You Book
Get special instructions for pickup and delivery locations. Know how many floors you're dealing with. Understand building access processes, and determine the parking situation. Be prepared for success.
Communicate with your customer. Household and office moves are sensitive listings. Keep in touch along the route, and communicate the delivery plan in advance, to help eliminate customer issues and disputes.
Deal with damages like a pro. Customers should expect to receive all of the items in their move damage-free. However, we all know there are bumps in the road. When damages occur, notify the customer immediately. Provide a copy of your cargo insurance certificate if applicable, or work with the customer to determine a plan for property reimbursement.
If you have additional questions, please feel free to continue perusing our Help Center or contact our Member Support team by clicking here.